WEBINAR: Strategic Partnerships: Collaboration Models as a Tool for Strengthening Impact
June 15, 2017 — 1:00-2:00 PM Eastern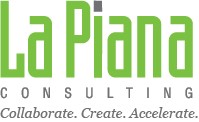 Collaboration can be an effective tool to strengthen the impact of your organization. These partnerships can take many forms – from casual cooperation to more integrated relationships. Using La Piana's Collaborative Map, this session will explore the various options; presenting examples to help participants understand the benefits and challenges of each, and to simulate discussion within your organizations about pursuing collaborative relationships as a strategic tool.
Register Today!
https://collaborativemap.eventbrite.com
NNCG Members:  FREE
Non-Members: $55.00
2-webinar package*:  $100.00
3-webinar package*:  $135.00
*Purchase of a 2 or 3 webinar package allows the buyer to attend this plus additional NNCG webinar(s) for up to 1 year from purchase date.  Please email lori.jane@nncg.orgwith your additional selections.
Presenter:  Scott Cotenoff, Partner at La Piana Consulting