MEMBERS-ONLY WEBINAR: Tapping the Value of the NNCG Network
October 29, 2020 — 12:00 Eastern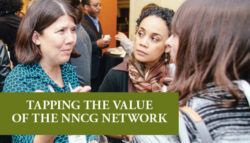 Are you getting the most out of your NNCG membership?
Join Mary Phillips (NNCG Steering Committee Chair), Jessica Bearman (NNCG Membership Experience Task Force Chair), and Lisa McGill (NNCG Project Advisor) to learn about the ways in which NNCG members are making the most of our great resources!
Whether you are new to NNCG or need to get reacquainted with our Knowledge Center, National Directory of Consultants, partnerships, and more, you'll get tips and tools on how to make your NNCG membership a rewarding experience.
This will be an interactive session, so please be prepared to introduce yourself, ask questions, and contribute. We're looking forward to it!
Tapping the Value of the NNCG Network
Thursday, October 29, 2020 at 12 noon Eastern
After registering, you will receive a confirmation email containing information about joining the meeting.