WEBINAR: Aligning Your Philanthropy Framework and Time Horizon for Impact
June 5, 2019 — 12:00 - 1:00 PM Eastern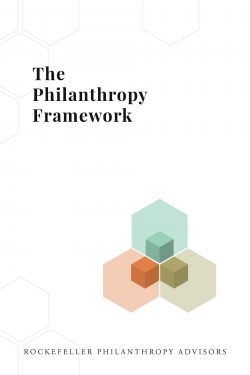 Join us for a conversation with Rockefeller Philanthropy Advisors Director of Knowledge Development Olga Tarasov and Vice President Mae Hong to discuss how The Philanthropy Framework provides a process for analyzing how a philanthropic organization makes decisions, interacts with others and the broader society, and utilizes its capabilities and resources, as well as the role of time horizon in the context of these components.
Faced with growing demands, increased scrutiny, and shifting views on the value and obligations of donors, philanthropy is undergoing profound transformation. Philanthropic leaders are increasingly asking how their organizations can drive impact beyond simply providing funding. Moreover, organizations are seeking new tools for amplifying their effectiveness and aligning all their resources to deliver on their mission, strategy and goals.
In response to this surge, Rockefeller Philanthropy Advisors developed The Philanthropy Framework as part of its multi-year program of collaborative research called the Theory of the Foundation. This analytical framework gives philanthropic organizations a practical structure to align resources for maximum impact. The Philanthropy Framework details how three core elements—charter, social compact and operating model—define an organization's culture, inform its structure, and shape how it carries out its work.
A key overarching consideration in the context of The Philanthropy Framework is time horizon. In addition to discussing how organizations can align around their unique Philanthropy Framework, this webinar will take an in-depth look at dimensions of different time horizons in institutional and individual philanthropy. We will explore considerations and motivations; effects on operating and strategic choices and approaches; and perceived comparative advantages of different time horizons. A thorough analysis of these elements will allow philanthropic organizations to further align purpose, resources and capabilities to deliver most effectively and meaningfully on their mission, strategy and goals.
Register Today!
https://nncghorizon.eventbrite.com
NNCG Members:  FREE
Non-Members: $55.00
2-webinar package*:  $100.00
3-webinar package*:  $135.00
*Purchase of a 2 or 3 webinar package allows the buyer to attend this plus additional NNCG webinar(s) for up to 1 year from purchase date.  Please email lori.jane@nncg.org with your additional selections.