WEBINAR: Disability and Philanthropy: Resources for Consultants to Grantmakers
November 17, 2020 — 12:00 - 1:00 PM Eastern
Disability and Philanthropy: Resources for Consultants to Grantmakers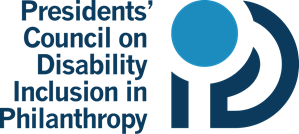 Join the Disability & Philanthropy Forum and the National Network of Consultants to Grantmakers for a real-time tour of the new Disability & Philanthropy Forum website and learn more about the benefits of applying for free membership. The Forum invites grantmakers and consultants to grantmakers to embark on a  journey toward disability inclusion.
You'll also have the opportunity to hear about NNCG's disability working group and its goals, objectives, and programming for the upcoming year.
To request an accommodation to fully participate in this virtual event, please contact Lori Jolliffe at lori.jane@nncg.org.  Auto-generated captioning will be provided by Rev.com.
Register Today!
https://disabilityphilanthropy.eventbrite.com
NNCG Members:  FREE
Non-Members: $55.00
2-webinar package*:  $100.00
3-webinar package*:  $135.00
*Purchase of a 2 or 3 webinar package allows the buyer to attend this plus additional NNCG webinar(s) for up to 1 year from purchase date.  Please email lori.jane@nncg.org with your additional selections.