WEBINAR: Generation Impact: An inside look with the authors into their updated edition
November 4, 2020 — 1:00 - 2:00 PM Eastern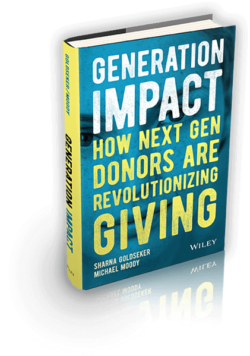 Given the significance that next gen donors will have on the philanthropic landscape in the decade ahead, the authors of Generation Impact, Sharna Goldseker and Michael Moody hoped their book would offer helpful insights from Gen Xers and Millennial donors themselves. They have been delighted to discover that families and advisors, as well as nonprofit board members, are indeed finding the book useful, with book sales nearing 15,000. We wanted to give the NNCG network an opportunity to chat with Sharna and Michael, to hear what they've discovered as they've toured around the country speaking with donors, staff, and advisors, learning about the best practices for engaging next gen donors – lessons they've now incorporated into the updated edition of the book due out this fall.
Register Today!
https://nncg2164gi.eventbrite.com
NNCG Members:  FREE
Non-Members: $55.00
2-webinar package*:  $100.00
3-webinar package*:  $135.00
*Purchase of a 2 or 3 webinar package allows the buyer to attend this plus additional NNCG webinar(s) for up to 1 year from purchase date.  Please email lori.jane@nncg.org with your additional selections.