This was originally posted on Grantcraft.org, and is published here with permission.
By:  CLARE NOLAN, JANET CAMARENA, JEN BOKOFF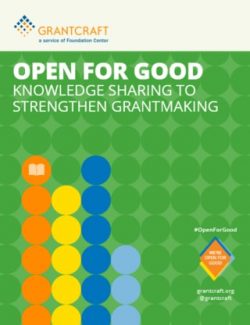 Knowledge has the power to spark change, but only if it is shared. In Open for Good: Knowledge Sharing to Strengthen Grantmaking, grantmakers make a strong case for foundations to openly share knowledge as an integral and strategic aspect of philanthropy. Learn from their firsthand experience how to grow organizational capacity and culture for knowledge sharing, address common concerns, and use knowledge exchange to advance your mission and impact.
Funding for this guide was generously provided by the Fund for Shared Insight, and is connected to Foundation Center's #OpenForGood campaign.
What's in the guide?
Why focus on knowledge? Foundations gather and generate valuable knowledge that holds untapped potential to advance their missions.
What kind of knowledge sharer are you? A self-assessment designed to determine your organization's culture and capacity for sharing knowledge and how the results point to next steps.
Why share knowledge? (Hint: It's good for you) Foundations not only reap a variety of benefits from sharing knowledge, they have a responsibility to do so.
Five common concerns and how to move past them. How to overcome barriers to sharing knowledge by using foundation-tested solutions.
Putting it all together: the mechanics of knowledge sharing. The essential components of developing and transferring knowledge, whether a foundation seeks a simple practice or deeper engagement.
How to share knowledge more successfully. Actionable ideas to grow and strengthen a knowledge practice.
The long view: Creating a culture of learning through knowledge exchange. How to weave knowledge exchange into a foundation's internal fabric as a sustainable way to emphasize the importance of learning.
Looking ahead: Knowledge sharing as a norm. The inevitability of knowledge sharing in the future.