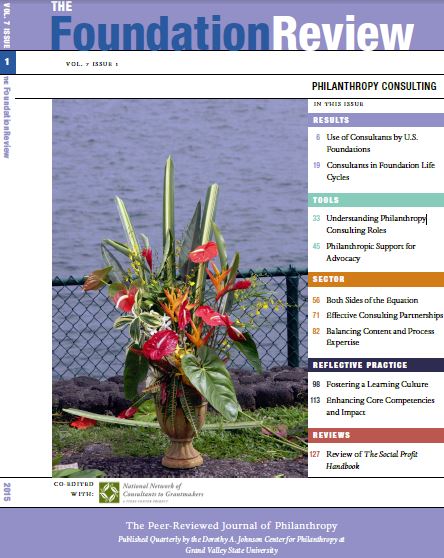 In 2015, in partnership with the Dorothy A. Johnson Center for Philanthropy at Grand Valley State University, NNCG co-edited the Spring 2015 edition of The Foundation Review, devoted completely to the art and science of philanthropy consulting.
This groundbreaking edition features 9 thought-provoking articles (full list below) – from the first ever national survey of the scope and use of philanthropy consultants, to best practices in working with consultants, to concrete ways consultants can expand philanthropic impact.
NNCG is proud to be the co-editor of this issue and thrilled that nearly every author is an NNCG member. That's a great testament to the caliber and commitment of our members and profession to the field we serve.
Articles in The Foundation Review include:
Front Matter – Cover Art, Table of Contents, Editorial by Kris Putnam-Walkerly, M.S.W., President of Putnam Consulting Group, and Chair, National Network of Consultants to Grantmakers Steering Committee
Use of Consultants by U.S. Foundations: Results of a Foundation Center Survey
Lawrence T. McGill Ph.D., Brenda L. Henry-Sanchez Ph.D., David Wolcheck B.A., and Sarah Reibstein B.A., Foundation Center
Understanding Philanthropy Consulting: A Tool to Identify the Roles and Capabilities Needed From External Support
Brian Leslie M.B.A., Kelsey Noonan B.A., and Clint Nohavec M.B.A., SwitchPoint LLC
Both Sides of the Equation
Barbara D. Kibbe J.D., S. D. Bechtel Jr. Foundation
Effective Consulting Partnerships to Philanthropy
Ellen Irie M.P.H., Kim Ammann Howard Ph.D., Ria Sengupta Bhatt M.P.P., Informing Change, and Naomi Orensten Ed.M., Center for Effective Philanthropy
Balancing Content and Process Expertise in the Practice of Foundation Consulting
Chris Cardona Ph.D., TCC Group
Shine a Light: The Role of Consultants in Fostering a Learning Culture at Foundations
Jared Raynor M.S., Ashley Blanchard M.S., and Marieke Spence M.A.L.D., TCC Group
The Family Foundation Life Cycle and the Role of Consultants
Melissa L. Nemon Ph.D. and Claudia J. Jacobs M.S.W., Sillerman Center; Mary Phillips M.S., and Judy Sneath M.B.A., GMA Foundations
How to Implement a Funder-Supported Advocacy Effort and the Integral Role of Policy Consultants
Deena Margolis M.P.A. and Leah Ersoylu Ph.D., Ersoylu Consulting
Going Beyond Grantmaking: Using External Help to Extend a Foundation's Core Competencies and Increase Its Impact
Gwen Walden, M.A.; Lauren Marra M.P.P.; and Katrina Briddell M.T.S., Arabella Advisors