COVID-19 Resource Central webpage
April 15, 2020 – NNCG member Brittany Kienker, Ph.D., (Principal and Owner, Kienker Consulting LLC) serves as an expert-in-residence for her client, the Council of Michigan Foundations (CMF).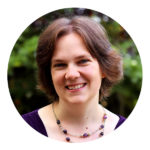 Through my work with Ask CMF, a technical assistance service for Council of Michigan Foundation members, I recognized a need for addressing practical questions about the grantmaking and operational challenges of COVID-19 for foundations within Michigan and nationally.  Together, the CMF staff and I launched a COVID-19 Resource Central webpage, designed to provide instant access to urgently-needed answers and resources for grantmakers, as well as a full listing of Michigan-based relief funds and policy updates.
Weeks before COVID-19 emerged as a direct threat to the U.S., I began early conversations with philanthropy serving organizations to ensure widespread access to relevant information and webinar content for the philanthropic sector.  Through those efforts, CMF's COVID-19 webpage has emerged as a go-to resource for partners nationally.  I am spending countless hours addressing questions and concerns of foundations and partnering organizations, while continually updating CMF's COVID-19 web content to meet emerging challenges.
Categorized in: Uncategorized