Telling Our Own Stories
This profile appears in our paper Disability Inclusion in Philanthropy.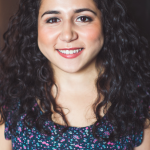 As a consultant and a multidisciplinary performance artist, Sofiya Cheyenne can offer funders and her colleagues unique insights into advancing disability inclusion through support for the arts. But the fundamentals are universally applicable—work is work, organizations are organizations, expertise is expertise. No matter the field, the pertinent and promising fact, she says, is this: "An untapped pool of talent is waiting for us."
Cheyenne, an associate consultant with Penn Creative Strategy, is also a teacher and an advocate for disability access and inclusion in schools and the workplace—including entertainment and the arts. In all her varied professional roles, sharing stories is as much her tool as it is her achievement. Storytelling, she maintains, is a uniquely impactful way to challenge social norms, and inclusion empowers people with disabilities to both create the message and share it. 
"In the arts world, specifically," she says, "what I find to be inclusive is when we see disabled artists telling their stories—not able-bodied artists telling those stories." And she notes that while people with disabilities make up 20 percent of the population, they comprise only 2 percent of the acting profession.
When grantmakers that fund arts organizations seek guidance on their internal and external DEI efforts, consultants need to center disability inclusion in that work, Cheyenne emphasizes. "Funding work by disabled artists, and by organizations that are led by people with disabilities or with a disability-focused mission, is a must."
This vital support comes in a variety of forms and formats. To ensure inclusion of artists with disabilities, she says, "fund accessible rehearsal spaces, studios, theaters, and film sets. Support mentorships, apprenticeships, and career development for people with disabilities in all areas of artistic expression." This means singers, dancers, actors, musicians, visual artists, screenwriters, composers, playwrights. "What I don't see," she says, "is enough accurate portrayals of disability in the entertainment industry. We still have able-bodied-person-centered messaging, acting, and stories. This must change."
Cheyenne notes that for audiences, there have been significant advances in access for people with disabilities and in widening their range of experiences in and of the arts. "In many—but not all—arts organizations and performance venues," she says, "there are options for ASL interpreters, captioners, audio descriptions, assistive hearing devices, accessible bathrooms, accessible seating.
"What I do not see," she adds, "is the anti-bias training sinking in. For example, the person you call for ticket services when reserving a seat at a theater must absolutely be ready, willing, and able to handle any accessible accommodation being requested over the phone. If they cannot handle that conversation, then that person is not equipped to do their job."
Arts management and administration also fall short in ensuring people with disabilities have a meaningful presence in leadership. "I do not see enough people with disabilities in executive positions or boards," she says. "We need to hold organizations and venues accountable."
Cheyenne stands 4 feet, 1 inch tall. Her form of dwarfism is a result of spondyloepiphyseal dysplasia congenita, a rare skeletal disorder. A graduate of the Professional Performing Arts School in Manhattan, she earned a BFA in acting and a BA in psychology from Brooklyn College. Her career as an actor and dancer includes performances with dance companies throughout New York City and roles in television and film and on regional and off-Broadway stages. She educates young people not only in the techniques of the performing arts, but also in the skills of social and emotional connection—inclusive play, positive communication, and anti-bullying strategies.
When formulating DEI initiatives internally, Cheyenne says, both consultants and funders must widen the scope that encompasses inclusivity with regard to race, ethnicity, sexuality, and gender "to also consider the value disability brings to their DEI work. We must not be afraid to call out ableism and name it for what it is."
And she stresses the need for organizations to institute ongoing anti-oppression and anti-bias training. "It is important that we crack open policies around hiring practices, discrimination in the workplace, and reporting and repairing harm," she says. "HR is often an area of an organization that is left to its own devices when issues concerning disability access and inclusion surface and that receives no support on how to accommodate a person with a disability."
Funders can also benefit from closer partnerships with grantees that are intentional in successfully implementing "realistic equity," Cheyenne says. "Grantmakers must know those organizations that integrate disability access and inclusion at all levels of their operations—and learn from them."
Categorized in: disabilities, diversity, equity, inclusion